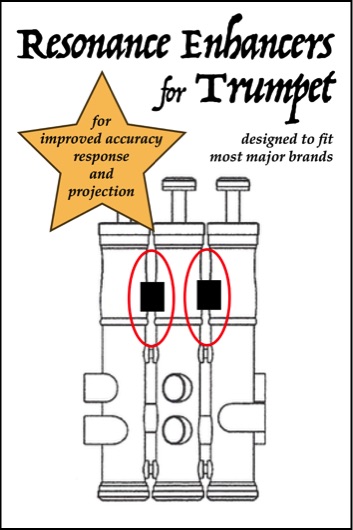 Customer reviews
These enhancers work better than heavy bottom caps. Plus they don't add any extra weight.
These enhancers give me a solid core of sound.
These enhancers give me better projection, better response, and better accuracy.
They turned a pretty ordinary Bach into a great one!
My tone immediatlely sounded more clear and pure.
The enhancers smooth out the slotting in the mid-range and add some body to the sound.
Yes, they really work!
I gained a quick focused attack and a more centered sound.
Yes they really do work. I have tried them on Bach, Selmer, Getzen and Schilke. On the Selmer Radial 2 degree horns mount them as close to the upper valve cap as possible. All other horns work great as pictured!
For what you might spend on a beer and a burger, you get a permanent upgrade to your performance!
Resonance Enhancers for Trumpet!
Transform your Trumpet - Achieve greater accuracy, response and projection. Inject new life into your horn while preserving its feel and sound.
Available now - €18 per set!
Dealer enquiries welcome.