2017 ITG Conference, Hershey, PA May 30 - June 3
We will be exhibiting at the forthcoming ITG conference. Look forward to playing our current models as well as the prototypes we will have on display. Please stop by our booth and say hi.
Also, check out the Recreational Musician display. They are a public charity dedicated to the promotion of recreational music making and sponsor all my writing, playing and teaching activities
Jaeger Piano Reflector
This reflector sends the sound of the piano back to the player as well as dispersing it all round the room.
Players remark that it makes their playing feel so much easier.
Now available in natural Birch ply: $195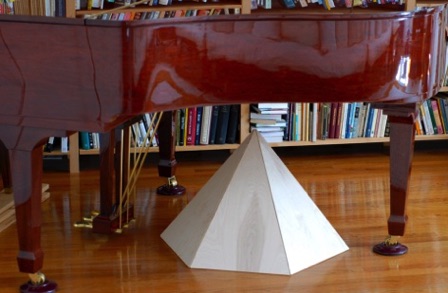 Some Reviews
I am the owner of two cherished Williams #6 trombones. I have been sending my slides all over the country to get them re-aligned. Needless to say there is some anxiety in waiting for your slide to come back and not be lost or destroyed. For the past 2 years I have had my slides serviced by a truly caring and knowledgeable master craftsman......Ivan Hunter. The great news is that he is located in Westchester county just north of Manhattan. Ivan takes care of my slides as if they were his own. He is honest and treats my instruments with the utmost respect. One would be hard-pressed to find someone like him anywhere else in the country.
Hi Ivan, just a quick note to let you know that my first impressions were confirmed when I got home and did some playing on the C trumpet. It is very responsive, and pitch seems to better than on the factory Bach C's I have played in the past.  I played through the first movement of the Lovelock Concerto and everything felt great.  I pinched a high E-flat the first time, then opened up the air and went for it a second time and the horn took it just fine. I really remember my old Bach C as feeling like hard work compared to my B-flat.  This plays very comfortably for me. Needless to say I am delighted and thank you for your excellent work!
Got the Jaeger trumpet. Excellent! It exceeds my expectations. 
Really a fine trumpet you've got here. I can see why you're so proud of them!
I'm a new convert to Jaeger trumpets from Ivan Hunter in New York. Possibly the best trumpet I've ever played and the price is nothing short of astounding.
I played his horns at the last two ITG conferences. The horns are just what is advertised. I would recommend these trumpets to anyone from a serious beginner to a pro player. The horns do play that well. They might be the best bang for your money in the trumpet world. They are certainly better than any of the watered down facsimiles of the "name" horns out there now.
Thumbs up from me about his horns too. Tried them at the ITG and was super impressed.
Beautiful Ballad horn that really sizzles when you push it!
This has to be the best value in a professional trumpet you can buy!
Thanks, Ivan. Your trumpet is indeed the "trumpet players trumpet". It is simple in design like the good old Conns. No frills, no geegaws. Just good response that lets me just concentrate on the music. You have my endorsement.
There is a new champion of the "common trumpet player"- his name is Ivan Hunter!!!
Latest Developments
Jaeger 3M cornet mouthpiece
Jaeger 3P piccolo trumpet mouthpiece in trumpet or cornet shank
Jaeger 86 trombone mouthpiece - ideal for the trumpet/trombone doubler